In recent years, the TWS market has continued to be hot. As the demand of potential users is released, the TWS headset market will further expand. TWS headset will not only be a mobile phone accessory, but also an independent smart terminal in the future. Consumers have been complaining about the shortcomings of TWS headsets such as "prone to accidental touch, single operation action, and affect experience". How to improve the interactive experience of TWS headsets and bring innovative product competitiveness to customers?  On August 13, Liao Wenzhong, Human-Computer Interaction Product Manager of Chipsea Technology (stock code: 688595), was a guest in the live broadcast room of Chuangyizhan, and partnered with the beauty anchor Momo to answer questions for everyone, attracting nearly 6,000 viewers to participate in the online interaction .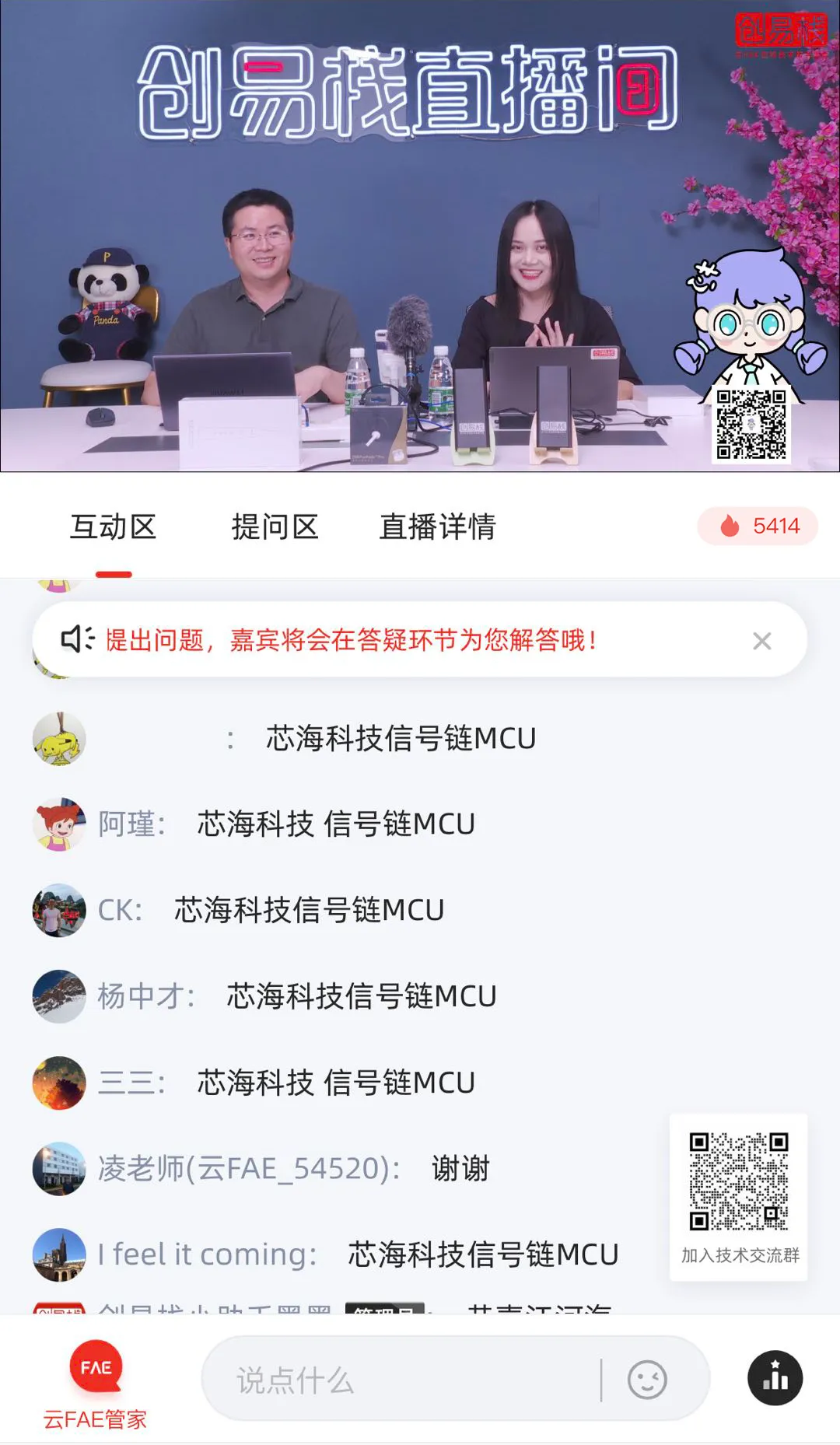 TWS human-computer interaction development history  In 2016, Apple innovatively released the first generation of AirPods, creating a starting point for TWS human-computer interaction. The product added optical in-ear, percussion and other sensing technologies to bring amazing user experience. With the continuous iterative evolution of Apple AirPods, more domestic and foreign brands have begun to follow up, and TWS product technology is fully blooming. In the past two years, with the downward extension of the active noise reduction function, more user-friendly human-computer interaction functions have also been extended to low-end brands. I believe it will continue to popularize the public in the near future.  In-ear detection, analysis of advantages and disadvantages of touch  At present, there are two common in-ear detection methods on the market: optical detection and capacitance detection. Optical detection mainly uses the emission of infrared light, which is reflected back to form a loop after touching the inner wall of the ear canal to determine whether the earphone is in the ear. Capacitance detection is to determine whether the headset is successfully worn by sensing the capacitance value of the human body and determining whether the headset has reached the threshold. Optical detection is not affected by temperature changes. Compared with the capacitive solution, the measurement accuracy is higher and the function is more stable. However, it has a large volume, high requirements for production and assembly processes such as waterproof and location, high power consumption, and high cost. Capacitance detection scheme is simple to install, waterproof and appearance is not affected, power consumption is about half lower than optical, low cost, but detection is greatly affected by environmental temperature changes, and it is easy to cause misjudgment when sweating and contact with water.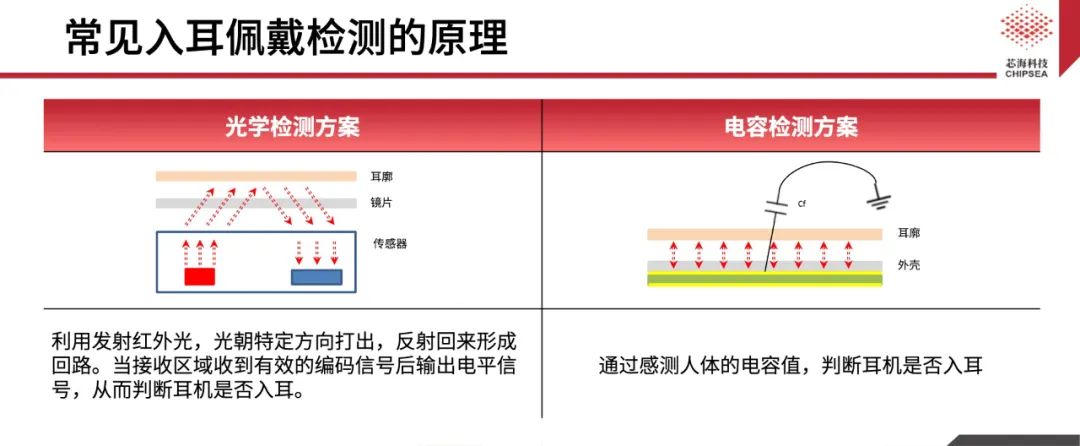 There are mainly five common pressure touch technologies: thin film resistive technology, MEMS technology, percussion technology, pressure capacitive technology, and capacitive touch technology. The thin film resistive technology has mature and simple production process, linear pressure output, low process requirements, but high cost, and is currently a technology commonly used by brand manufacturers in the industry. MEMS technology is lower in cost than thin film resistive solutions, but it is more troublesome to produce and install. The pressure capacitor technology has a simple structure and low cost, but the capacitance change is small, and the bias may cause failure and affect the user experience. The cost of capacitive touch technology is cheap, but the function is judged by the length of the pressing time, and the experience is poor.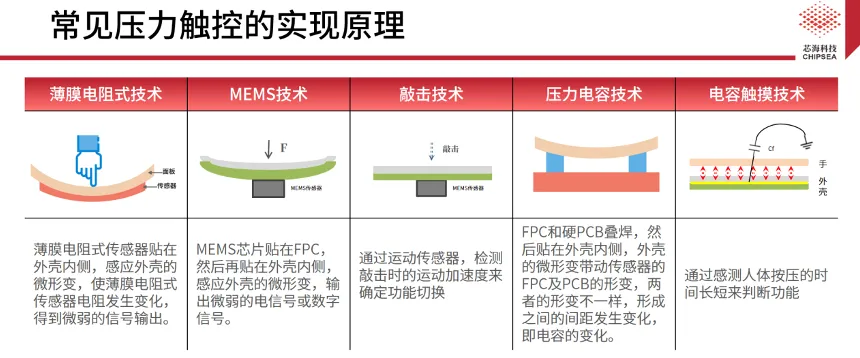 Multi, fast, good, and economical three-in-one single-chip solution  Through the previous introduction, we can see that there are various pain points in the current human-computer interaction. Chipsea Technology, which has long been involved in the TWS industry, has continued to make efforts in the field of TWS headsets based on years of accumulated technical experience, and listed wearable devices represented by TWS as an important strategic development direction for the company in the future. The company continues to innovate in TWS human-computer interaction, which is mainly manifested in four aspects. First, the product detection accuracy is getting higher and higher, the sensitivity is high, and the anti-interference is strong; secondly, the computing power is getting faster and faster, and more complex structural algorithms are applicable; The consumption is getting lower and lower, and the whole machine has longer battery life; and the integration is getting higher and higher, and the size is smaller and easier to stack.  Chipsea's newly launched CSA37F72 can realize ear detection, sliding adjustment, and pressure button functions with a single chip. Through differential measurement and baseline tracking algorithms, it can accurately identify in-ear wearing detection without being affected by temperature changes, water, and sweat; through the built-in gesture recognition algorithm to achieve volume adjustment and switch between up and down; support commonly used thin film resistive, CAP, MEMS A variety of pressure sensors, such as single-click, double-click, triple-click, press and other operations, achieve an experience comparable to Apple AriPods Pro.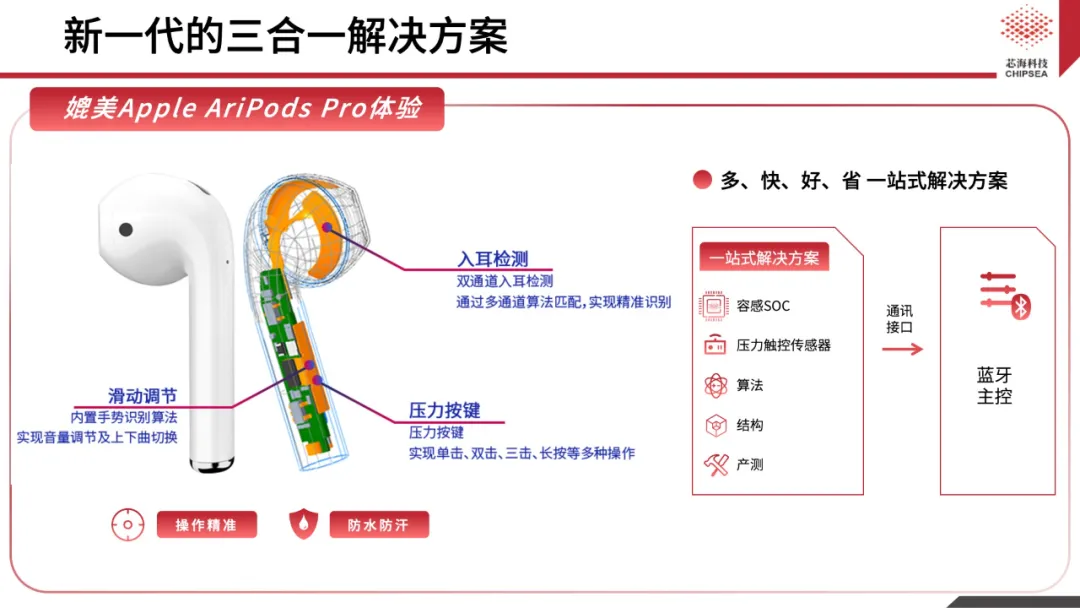 CSA37F72 integrates 16Bit SAR ADC, supports 6-channel fully differential or 12-channel single-ended input, supports 12-channel CAP detection, integrates PGA, and supports 1~1024 times gain. Rich resources, I2C/UART interface, support online debugging and upgrade.  Based on the CSA37F72 chip, the "multiple, fast, good, and economical" three-in-one single-chip solution enhances the interactive experience of TWS headsets and brings customers innovative product competitiveness.  "Multiple" refers to the five core highlights of the product, including ultra-low power consumption, high detection accuracy, built-in multiple algorithms, rich resources, and small package. Ultra-low power consumption, compression detection: 12.5uA@10H, ear detection: 8uA; detection of minimum pressure signal 3uV, strength recognition resolution up to 1g; built-in mass-tested algorithms (noise reduction, drift compensation, temperature compensation algorithm, Calibration algorithm, baseline tracking algorithm, anti-mistouch and other algorithms); the analog front end is adapted to various sensors such as CAP/MEMS/thin film resistive, with large-capacity FLASH, RAM and IO resources, suitable for various scenarios; TWS The headset is small in size, light in weight, and uses wafer-level packaging to form a cost-effective advantage in the industry.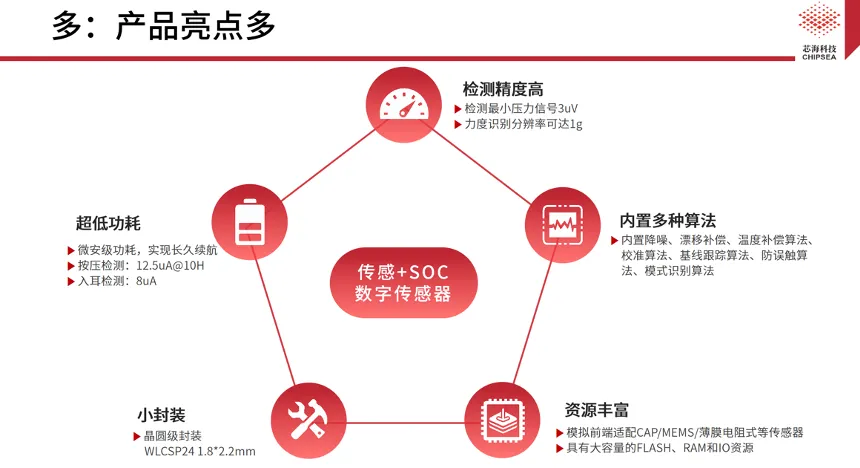 "Quick" refers to a quick production process with one sticker and one sweep. Customers often worry about production efficiency and yield when choosing a product. The company's quick and easy production process perfectly solves customer concerns. "YiTie" refers to attaching the ear, sliding, and pressing sensors to the inside of the TWS headset shell; now many production lines have MES systems, "YiSao" refers to scanning the sensor with a code scanner after connecting to the motherboard The calibration software on the PC side will automatically carry out the work process of ear-in and pressure-controlled calibration. After reading the signal, it will return to the chip for automatic calibration. After the computer displays PASS, it can be used, and the production process can be completed quickly and simply.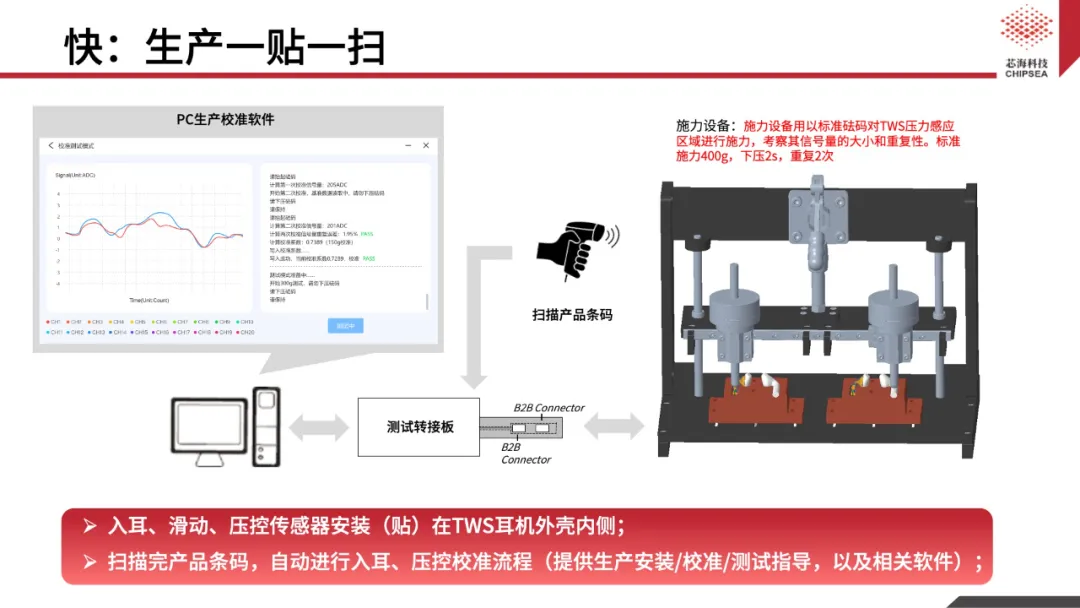 "Good" refers to good development and nanny-style service support. Embedded developers all know that compressing program space is time-consuming and laborious, and is a major pain point in development. CSA37F72 has ample Flash space and can freely carry out embedded development. Various structural problems can be easily solved by algorithms; solutions are provided Reference and algorithm SDK can be quickly modified; debugging tools can be adjusted through PC and mobile phones, which is more convenient and fast; after mass inspection, the signal-to-noise ratio is high and the algorithm is mature; in addition, the company has strong technical service support, Standard guidance documents, truly considerate nanny service support.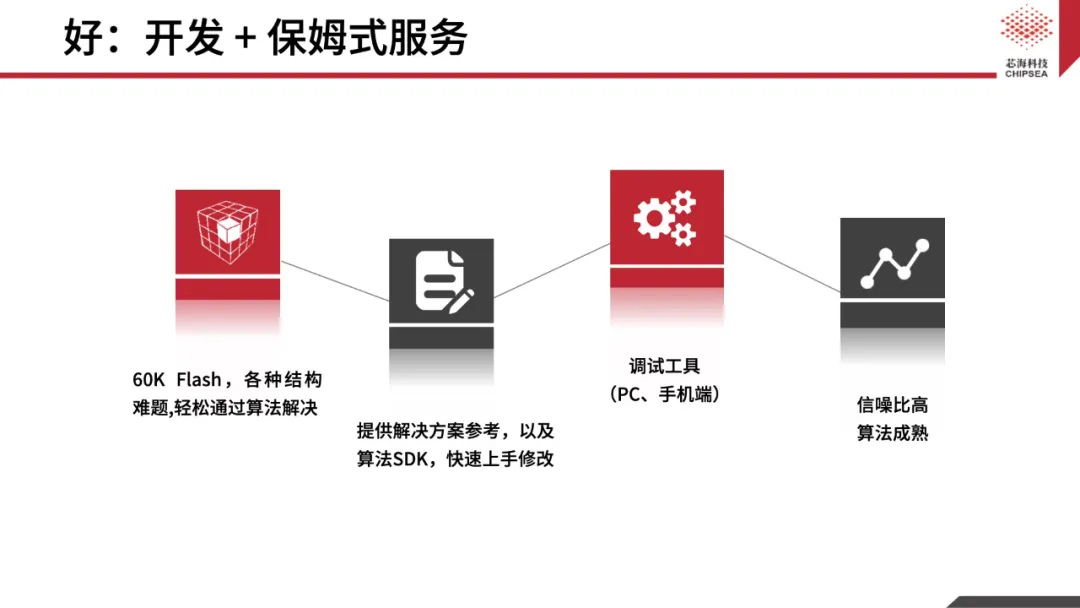 "Saving" means saving time and cost. Everyone knows that the human cost of development is very high. CSA37F72 integrates two measurement methods of CAP and pressure sensitivity, as well as rich resources. A single chip can complete the ear, sliding, and pressing functions of TWS, and it is provided by mature algorithms. Engineers only It is necessary to modify the personalization based on this to be able to achieve efficient development. From the perspective of material cost, integrating the functions of two chips into one chip can effectively reduce the costs of processing, placement, production, manufacturing, procurement, warehousing, etc., and is more cost-effective.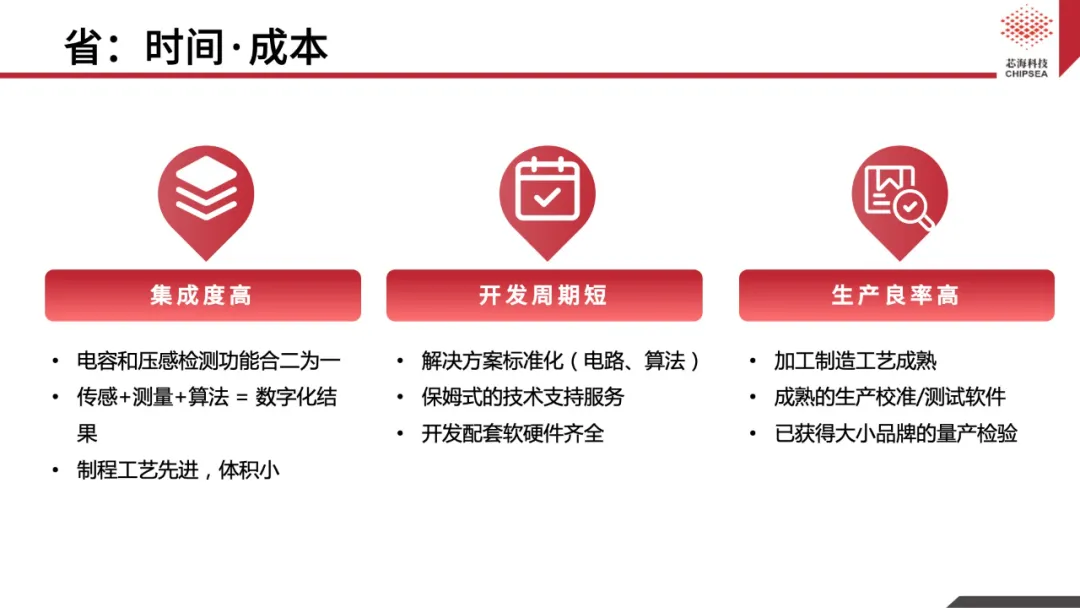 Seeing is better than hearing it. Let's watch the human-computer interaction demonstration and signal waveform changes of the TWS 3-in-1 single-chip solution through a short video below.  Chipsea Technology Human-Computer Interaction Demonstration  Continue to promote TWS innovation  The company continues to make efforts in the field of TWS headsets. In the future, it will provide richer perception products to measure vital signs-related parameters, and realize richer applications, such as sleep detection and emotion perception, through fusion algorithms. In addition to the continuous development of health and human-computer interaction, BMS and fast charging chip products are provided in battery management, so that TWS headsets have a safer and faster charging experience and longer battery life. The wearable field is an important strategic development direction of the company. In the future, Chipsea Technology will continue to cultivate in the signal chain MCU field, enrich product types, further improve user experience, and empower the future intelligent upgrade of TWS.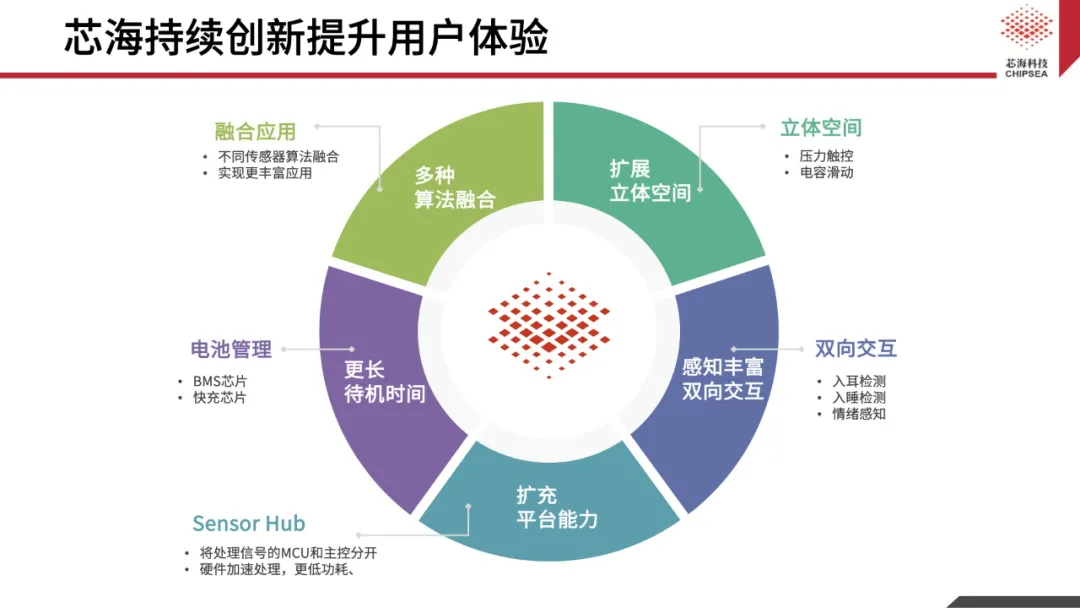 Chipsea Technology (Shenzhen) Co., Ltd. (stock code: 688595) was founded in 2003. It is a full-signal chain integrated circuit design company integrating perception, calculation, control, and connection, focusing on high-precision ADCs and high reliability. R&D and design of MCU, measurement algorithm and AIOT one-stop solution. Adopting the Fabless business model, its chip products are widely used in smart health, smart phones, consumer electronics, wearable devices, smart homes, industrial measurement, automotive electronics and other fields. Based on a deep understanding of high-precision ADC technology and high-reliability MCU technology, the company has mastered the entire signal chain chip design technology, and has cooperated with Xiaomi, vivo, OPPO, Meizu, Huami, Zimi, Mcwell, Feike, Han Well-known companies such as Wei, Midea, Xiangshan Weighing Apparatus, Lexin Medical, and a leading lithium battery company have established close cooperation and become Huawei's HarmonyOS ecological strategic partner.  Headquartered in Shenzhen, Chipsea Technology has established subsidiaries in Hefei, Xi'an, and Chengdu. It is a national high-tech enterprise and has been recognized by the Guangdong Provincial Department of Science and Technology as the "Guangdong Internet of Things Chip Development and Application Engineering Technology Research Center". The company was approved to establish a municipal-level post-doctoral innovation practice base, with a reliability testing center, a health measurement laboratory, a perception laboratory, and an MCU laboratory. As of December 31, 2020, the company has applied for 591 patents, and has obtained a total of 591 patents. 246 patents have been authorized.